some case…..
from last week till date…see quite a few fengshui and ba zhi…nothing special… the 2 case  worth mentioning is 1> a house i view at Boon Lay dr .. The owner Mr Tang was a Tan Lang person, had a divorce few yrs bk…now buy this flat living alone…the previous owner was a indian, i went up the house and was surprise to see the whole house full of mirrios and the bed room. was painted in total black…there was kind of sticking energy in the flat….i check the fengshui of the house, for a rating 1 to 10…the flat i rate 2 , cos its really damn jia lat…the door had a 5 yellow and the qian gong also had a 5 yellow…the NE  sector aka gui meng had a window and jus outside it , there are 3 tree standing like 3 joss stick ….there is a special name for this kind of ge ju…gui meng xun meng ju…meaning that ppl living in such house will easily hv depression or spirits prossession…Mr Tang is a person ji earth and there r 2 shi ling in his ba zhi…if he jus live in the flat without doing anything, i can forsee that within 6 months…he will jus jump dwn.. >i advise Mr Tang to leave the house vacant for 3 months after washing the whole house with vineger and paint the room with light blue…b4 moving in. > get a 9m 7 colour string chant 1080 times of an tu di zhen yan , and tie it at the 3 tree.  > for such a house a special date must be chose to move in….it hv to b a po ri > a 6 rod windchimes  with 3 qi ling hv to b put up at the door area. > only metal bed can be use. 2> My darkest hour in life so far till nw is the time i spent in army…at Jurong camp…8 yrs ago That period is when i  exp my unluckiest 5 yrs of luck… I fall sick very often and was tekan like mad in camp… i remember there was one time i was hving a high fever abt 40 degrees n that morning i was at the parade sq waiting to go medical center to report sick..I was shivering…then there was this camp mate Ang  standing near me…passing alot of sarcastic remarks like sick chicken lah chao keng n all sort of BKLTL  remarks…i was feeling horrible and plus the remarks i really buay tahan…n i use my last bit of strengh  wanted to fought with him…luckily other camp mate stop in time b4 the sergernt came…after that incident, this Ang was like a ke xing in my army life…keep giving me problem…we were so you yuan till we landed up the same unit even after i manage to "escape" from the camp However…this week…I actually start teaching him xiu xing…and we both seems like hving shi yi zheng…became close friend… I actually forgot abt all the past..it only strike me when i was observing him when he was initiating the zi fa gong…i was like..hey..this man was actually i hated so much …but how come im nw a mentor to him???This world is really 无常,as the hokkien saying goes "船头,船尾碰的到." 凡事留一线,日后好想见. Anyway..I guess..I must hv done alot of bad to him in past life….Its my duty/obligation to du him….will do my best…cos I want my "revenge" back kakakaka!!! 😛
惨败
I guess one of the greatest sin in life is making a person lost her virtues , compassions, loving kindness and self esteem… Think recently I hv jus done it unintentionally…though its unintentional..but I still hv to be responsible to it…. Till now I still not sure hw bad the damages is..but I guess it really bad.. Saying sorry is very difficult to many of us…and sorry might not be the cure for many mistakes that we make…. at this juncture…really cant think of a way to atone this sin…..what done cant be undone… shall i keep silent and see the progress then decide ? shall i speak up to the person and face the music? shall i jus let the person go her own way? shall i make up the mistake by changing to what the person want? lots of thoughts…running through me… its so irony….spiritual stuff and many funny things never beat me…but when comes to this matter…im beaten…
a nice poster that i came across…. as the saying goes…. 众生都有佛性, i hope the person dun becos of me lost this beautiful nature…i dun worth it….
12 horoscopes reading……….
well CNY is around the corner again.. these few days i hv been recieving calls to request me to give the 12 horoscope analysis…talk to company and road show…some "old" clients also start calling to make appointments with me to their house to tell them and their families members their horoscope analysis for the year… frankly speaking im not really keen in giving horoscope talk or advise…not only its tedious to prepare slides, i tink its not accurate in horoscope analysis…  when we talk abt hroscope, we are jus talking abt the yr effect on a person year pillar in the ba zi analysis…there r 4 pillar in a ba zi analysis, year,month,day and time…  so when u ask hw a snake person fare in a rat year, its really really tooo general….the accuracy is only 25%…and sometime it will b very misleading… It will be mlore accurate if you hv taken ur ba zhi analysis and u know wat is ur useful elements and negative elements.. 2008 is a earth and water yr..so ppl who need earth will hv a good starting 6 month and ppl who need water will hv a good later 6 month.. So my desicion is that im not going to do any horosope reading for this yr… but  i will like to caution the below group of ppl who born 1> in the yr of horse 2> in the month of horse 3> in the day of a horse 4> in the hour of a horse 5> surname 马 6> in the name there is 马,火,熊 and names with fire elements etc etc.. As long there is aperson who hit 3 or more of the above 6 point, you will hv to be careful.. as the di zhi of 2008 is 子, which will clash with 午(aka horse) which is a fire element 2008 may be a very weak energy yr for you.  the cures will be 1> wear a real amythest crystal 2> avoid hospital or wake visits  3> do not make big changes in life as all decisions make is wrong 4>  hang a 6 hollow rod windchimes at the south of the house. 5> hang a gong at NW sector of the house. strike it 9 times non every 2nd and 16th of the lunar month 11am to 1 pm on the whole…I see that 2008 is not a good yr …a yr full of turbulance, woes and disagreement… Hope all of us will start chanting and doing good deeds… A mi tuo fo~~~~~~~~
九宮八卦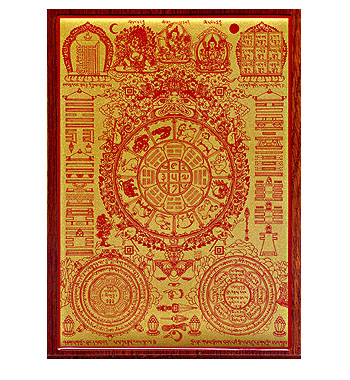 九宮八卦鏡是西藏密宗開山祖師「蓮花生大士」,聚集梵、藏、漢三地破各種凶煞之鎮宅安居妙寶而成。  上方中央是佛教密乘主掌智慧、慈悲、力量的智、仁、勇三族姓尊–文殊、觀音、金剛手等三大菩薩。  其右方為時輪金剛,令東、南、西、北、東南、西南、西北、東北、上、下等十方與年、月、日、時等時辰所組合的時空宇宙世界一切自在。
其左方是防護一切凶煞、障礙、驅不祥的迴遮咒輪。正中分為三圈,外圈是十二生肖,表十二地支,配合天干演化成六十甲子。中圈是八卦為離、坤、兌、乾、坎、艮、震、巽,代表火、地、澤、天、水、山、雷、風等八種事物。內圈是按龜背的九宮
,分為九宮。
此圖總括一切時間、方位、風水、地理。圈外有一怒目、獠牙、捲舌的四手凶神,就是掌理日月星宿年月日時的羅喉,俗稱之太歲星君。右下方的咒輪是一切音聲的韻母及緣起咒。作為增長善緣、福德,吸收日月天地間的精華。左下方的咒輪是迴遮一切違緣,作依陰陽五行成九宮的遮止咒輪。
將此咒牌懸掛於大門上或屋內,可防範因人、事、物、風水、地理所生的任何凶煞。
能阻擋一切奇災異禍,趨吉避凶,轉禍為福,百無禁忌。
於宅內安居者,不論求財、婚姻、子嗣、名位所求皆能增善緣而生生不息,滅惡緣而無災禍,息疾病而添壽。
迴遮一切太歲、歲破、劫煞、災煞、歲煞、伏兵、人禍等諸年月日時煞星,阻擋路沖、門、床、灶、廁等不吉方位所生的凶煞。令宅內合家大小平安,加官晉爵,招財進寶,福壽綿長,安和樂利,百事皆宜,吉祥如意。
Basically this is avery powerful amulet…It is use when a house is fill with ying qi or poor energy cirulation.
However, dont think it will work just by getting from any shop and start placing it in ur house…..it hv to be 1st blessed 1st ok… ????
Lor Ah Soo……..
Today was my 1st day of my this yr reservist…thought that  for the next 10 days i will hv "peaceful" life..jus bk in bk out nia…but 2day early morning i recieve a call from my old client…he wanted me to respond imediately…
Mdm Goh  live somewhere in lor ah soo….and recently 2 days ago there r 2 corpse found in a house jus next to her house. When the police were removing the corpse, her 2 daughter happend to jus came bk hm from sch and saw the corpse…
Immediately that night, her elder daughter had a fever and was weeping whens he was sleeping and the next day morning she was cry for no reason and refuse to go school..
the younger 1 had a sleep walking that nite and went to her dad pull his hair and beat him for no reason…
befor i went into their house, i went over to the the "victimise" unit. I sit outside the door and start chanting di zhang wang mie ding ye zhen yan….
there were negative energy felt but not those fierce fierce type…..i chanted for 20 mins and seal the door with my energy seal.
I went into my client house i look at the children, the elder 1 was bad…her face was tinted with darkish green energy….while the young 1 quite ok…
i ask the elder ger to sit infront of their goddness of mercy while i start chanting…i blast my energy at the kid from the crown charkra, she start to tremble…i point n press my index and middle finger on her head…she tremble even jia lat…
it took abt 20 min when her tremble die off…
i prepare a bucket of chanted  salt and vineger solution and ask her to bathe with it…
for the young 1 , i merely do a energy sweeping for her..and lastly i did a blessing for the house and energy seal the windows and door…
Many time young children tend to b more sensertive to such nergative energy than adults..thats y i always advise my client not to bring children to wake or hospital visits.. unnessarily…
after the ritual..i felt very happy..i always feel good n happy when im able to solve my client problems…but behind such sense of satisfication…i did sacrifise alot…i need time to cultivate n during the process of cultivation i need to tahan alot of physical and emotions torture…and even changes in my mind and sub concious..i need to swollow alot of misunderstandings from parents, lover and friends…
to them…when they see how i cultivate, they thought i zhou huo ru mo..keep saying negative stuff to throw me wet blanket…and keep using ren xing to judge me…and suspect me…
yeah these is how my close 1 treat me…when they dun need my help…but when they need my help in cosmic energy stuff..they expect me to acomplish it..they tot things jus happen like dat..they dun noe. behind my success completetion of the job…i need to pay alot of hardwork and stand their negative comments…
haiz…maybe these are tests meant for me…well i can only gracefully accept it…
cos after weighing..the joy in helping and solving a problem is greater than the sadness i recieve in facing my loves 1…during cultivation…
火烧功德林
phew… jus came bk from coffeeshop….i seriously understand the phrase…"shun xi wan bian" kakaka
was at the coffeeshop with a uncle who is a mi zhong practitioner for the past 15 yrs…he is a serious practitioner of bu dong ming wang jing gang fa…
i was drinking tiao yu and he was drinking beer..we were happily chatting abt some ying guo stuff and some mi zhong fa meng….
while we were sharing abt something abt ying guo, another uncle sitting at the next table drinking beer suddenly cut into our conversation, saying my uncle was tokking nonsense…not practical, maybe due to the effect of beer, my uncle flare up and start using aggressive tone to shoot the uncle, and i believe unaware to him , he actually spill up some "life secret" abt the other uncle. He gt fedup and stand up gave my uncle a push..the push was so great that my uncle feel dwn….uncle loh stand up and start closing his eyes chanting bu dong ming wang xin chou, i witness b4 the effect of the chant, it will make my uncle into a fighting babarian…i quickly pull my uncle away, but the other uncle still mai pang sua..keep yelling and threw a glass at us, i siam and ask him to stop, i was very sacared…im not scare he will beat us up, wat i truely afraid is my uncle ..cos i know once he summon the jing gang ..there will surely be blood shed….i keep pulling my uncle loh away and say sorry  to the other uncle…at the same time i keep chanting gate gate paragate,para some gate bodhi so ha , hoping the mantra will ease my uncle and stop him from summoning the energy…
i really use up my energy trying to  pull my uncle away….  it was really a scene…alothoug is was 2 am , but still many was at the kopitaim..all crowd around to see show..haiz…
finally i manage to pull uncle loh to a safe distance, he open his eyes n start scolding me…saying im wrong to pull him away, he want to use jing gang to teach him a lesson..i look at him..and really buay lun liao, n told him off…
"uncle! im ashame of u…u r my senoir and yet u still so fooling trying to yi bao zhi bao!, u really not fit to be call a xiu xing ren"
" u r wrong boy, the reason why there is existent of jing gang hu fa is to punish ppl like that person, im ashame of u, u r not helping me and instead u keep saying sorry to him, u r really a whimp, waste my effort in teaching u the jing gang fa meng"
" uncle, i think u really need to restart everything n bk to stage 1 of xiu xing!, jing gang hu fa is use to protect dharma, and not use to fight, n do u know the person is a layman, he know nutz abt tao xing, u should be hving patient with him n not jus tell him off like that, tonight u really  火烧功德林!!!"
after listening to this phrase, uncle loh , finally simmer dwn and slowly walk away….
a simple chatting session nearly turn out to  be a blood shed scene..haiz, is it the person karma, a test for my uncle or a lesson to be learn by me?
a person with so many years of cultivation still can commit such wrong..i guess i hv to keep remind myself…i must not let ren xing rules me….
Ai chant mai???
Ever since i start to know and aware about the merits and good effect of chanting i start to spread this ideal to ppl around me…be it my parents, girlfriend ,relatives, friends and clients… many does start to prac…but also at the same times i exp negative attitude from many of them.. eg, "chant what chant, no mood lah! i stirke toto , then i chant' "mai siao lah! chant? no time lah…i want to play CS/watch football/pak tow/watch tv/bet horse/ sleep" "chant?? you siao ah? u mights well ask me go be monk!" "aiya, i work whole day, sibey sian liao lah, backache some more…ask me sit there..n chant, dun torture me lah" and ofcos..alot alot more…. some of them who did chant , i guess also start to buay tahan me liao, whenever they see me, without i asking, they will automatically tell me they gt chant today /today hv nt/later/today no mood… hahaha…. i guess im really super loh soh… sometime…i really dun feel good n tell myself , i hv already done my part by telling them the goodness of chanting and the way to chant,they gt chant or not..also nt my problem..liao y so bother..let them b lah! but when i see their problem is abt to come liao…if i dun urge them to seriously do it…i like very mei liang xin ..haizz…. AI CHANT MAI???????????? kakakakaka……. 
Bye Bye 2007…..
Well….finally a fullstop for 2007… really a very very eventful year for me… gald that i went for my monkhood retreat and had my 自发功 initiation… thanks to all those who trusted me and allow me to assist them in life and sorry to those who i cant help… the greatest sadness i experience this year is the passing away of jessie…if only i hv pass you the notes earlier..sorry Han San…..and June, I really cant solve your problem..maybe im still not up to the standard..will try harder The greatest  "archievements" i have this year is leading Jeff, Richard ,shirly and Lao Da into xiu xing….will try to "get" more into the group…haha The funniest thing i hv done in  2007 is joining Wasam**** and help Mr T , if only I wasnt so indecisive , i would hv not waste so much of my time… but Thank you Mr T, if  not because of you i wouldnt know there are people with so high gong li yet still cant see thru greed… From 2008…i can proudly call myself  "free thinker" liao…no longer bonded by my foolish thinking about religion… All thanks to 释枷,老子 and 无形 , if you  didnt save me from the car crash, I would hv die without understanding or hving "religion freedom" Phra N and RS, sorry….i think your path dun suit me  and really not meant for me…thank you 2 for the past years support and help…without you 2 i wouldnt hv come to 2day and would hv die earlier…  MY 2008 resolutions . Lead more people into xiu xing, . lessen my karma debts .Do lesser insensible things .Treat ppl around me better and spent more time with them…